The Catholic Archdiocese of Sydney has two new Auxiliary Bishops. Pope Francis has appointed Monsignor Anthony Randazzo and Father Richard Umbers to be the new Auxiliary Bishops of Sydney under Archbishop Anthony Fisher OP. They will join Auxiliary Bishop Terry Brady in the governance and pastoral care of the Catholic Archdiocese of Sydney.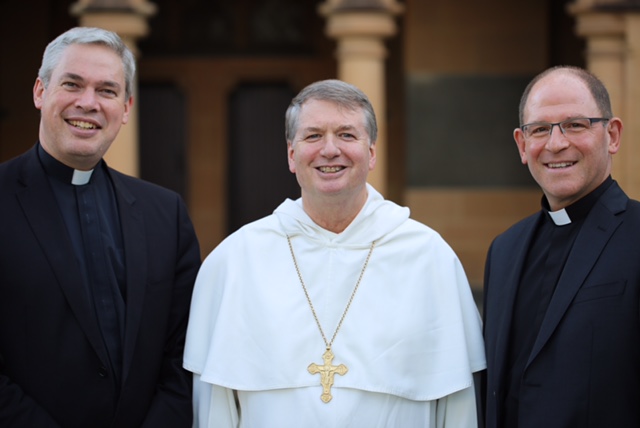 Both priests say they were very much "taken by surprise" by the appointments but are looking forward to working with Archbishop Anthony and the priests of Sydney in serving God and his people in this new way.
Sydney-born Monsignor Randazzo is a priest of the Archdiocese of Brisbane and priest-in-residence at the Cathedral. He was until recently the Rector of the Queensland Seminary and during his seven years in that role (and as Director of Vocations) Brisbane saw a resurgence of vocations and 27 new priests ordained. Before that he undertook post-graduate studies in canon law, was Pastor of Regina Caeli Parish in Coorparoo Heights, and then worked in the Congregation for the Doctrine of the Faith in Rome.
Father Umbers is a priest of Opus Dei and has a background in economics and business management as well as philosophy and theology. He has carried out extensive pastoral work with young families, students and young adults, and candidates for the priesthood in Sydney. Monsignor Randazzo is aged 49 and Father Umbers is 45. When ordained these men will be amongst Australia's youngest bishops. With Archbishop Anthony, 56, they represent the "generational change" presently occurring amongst the leadership of the Catholic Church in Australia.
The Archbishop of Sydney, the Most Rev Anthony Fisher OP, said he was delighted with the appointments and warmly welcomes both priests to the work of the Archdiocese. "Two very intelligent, energetic and pastoral men are joining the bench of bishops in Australia and the leadership team here in Sydney, and the priests and people of Sydney will welcome them with open arms.
They will bring fresh ideas and energy to the life of the Archdiocese and I thank Pope Francis for these two gifts to us."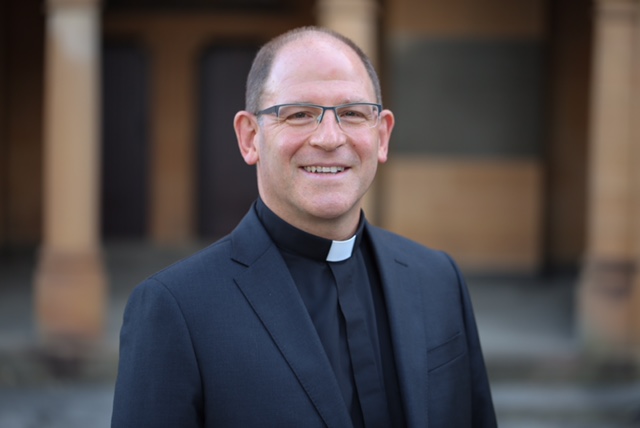 Msgr Randazzo is of Italian-Scottish background. His father Colin Randazzo was baptised at St Mary's Cathedral in Sydney and he and his wife Caterina have four children. Their only son Tony, attended Catholic schools in Coolangatta and Southport before entering the Provincial Seminary in Brisbane. He was ordained to the priesthood in 1991. He has degrees in theology from the Brisbane College of Theology and in canon law from the Pontifical Gregorian University in Rome. He recently undertook a sabbatical program in Scripture in Jerusalem. He has experience as an auditor and a judge in the Regional Tribunal in Brisbane and in the National Appeal Tribunal. Msgr Randazzo enjoys the outdoors and is looking forward to reacquainting himself with the coastal and bushland walks around Sydney. He also enjoys music and has a keen interest in architecture. "It is a privilege and a joy to be called by the Holy Father to collaborate in the pastoral care of the Church of Sydney," he said. "I am delighted to return to the city of my birth and I am eagerly looking forward to meeting the priests and people of the Archdiocese. "I humbly ask the people of the Archdiocese to remember me in prayer. For my part, I pray through the intercession of Mary, Mother of God, for our local Church of Sydney and I rely on the gifts of the Holy Spirit so that I might be a good and faithful shepherd."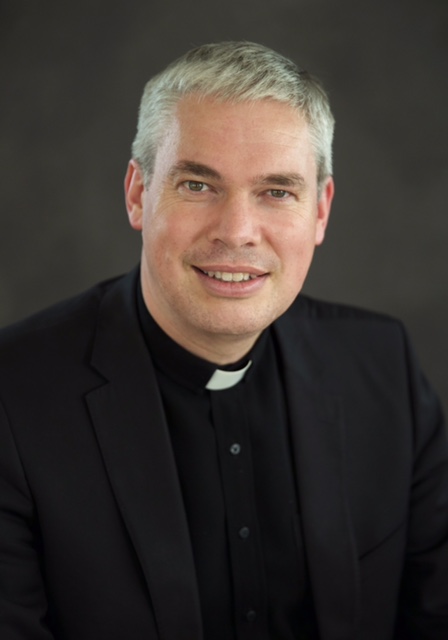 Fr Umbers was ordained to the priesthood in 2002. Originally from Papatoetoe in Auckland, New Zealand, Fr Umbers has four siblings. He studied in Sydney, Rome and Spain and has served as a priest in Sydney for the past 13 years. He has assisted the Archdiocese as a member of the Council of Priests, a university college chaplain and a member of the team of spiritual advisors at the Seminary of the Good Shepherd. Fr Umbers has a doctorate in Philosophy and has been a lecturer and tutor at the University of Notre Dame Sydney. A prolific author, Fr Umbers has many publications, journal articles and conference papers to his name. He follows popular music and the issues trending on social media and admits he is "always up for a debate on important issues without losing my sense of humour." Despite a busy schedule he says long distance runs and a rowing machine help keep him fit. He has a particular interest in mainstream and social media and their uses for evangelisation. "I was stunned when I heard the news," Fr Umbers said, "but accepted the Holy Father's appointment in a spirit of filial obedience and the ardent desire to serve the Church as she needs. I bring with me a love for people and ideas which often finds expression in my preaching on the Gospel. Together with Monsignor Randazzo I will be eager to learn the art of shepherding from Archbishop Fisher and Bishop Brady."
The Episcopal ordination of Monsignor Tony Randazzo and Fr Richard Umbers will take place at St Mary's Cathedral on Wednesday 24 August 2016.
For further details please contact:
Katrina Lee – 0403950652 or
Selina Hasham – 0419639742
Catholic Archdiocese of Sydney