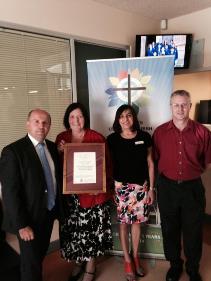 At all Saints Catholic Primary School, the Archbishop's Charter has been included in all recent documentation. Staff has received in servicing on this document and this will be an ongoing occurrence. During 2013 we re wrote our vision and mission statements. Parents, students and staff were involved in this activity. A competition was held among the students for a bible quote to be selected that could in a few words encapsulate our mission here at All Saints . The quote chosen was from 1 John 3:18 ' love, not only in word or talk, but in action and truth'. This quote is now on display on our stage 3 playground and underpins all we do. We are not just talkers- we act to get things done and to help others. We have a strong association with our parents and parish community as it was the laity who in 1827 founded a Catholic school in Liverpool. We have a strong association with the Sisters of Charity who laboured for 123 years in our school and in fact we still have a Sister of Charity working in our school and this year we are helping them celebrate 175 years presence in Australia.
In all classes there is a strong focus on Religious Education with results in the Year 6 RE test demonstrating that our students possess the necessary knowledge to a high degree of excellence. All classes meditate three times a week with the rosary being recited during October Each class has a Prayer Box which is taken home on a rotating basis Our Family educator will do further work in this area during 2014 with prayer opportunities being offered to parents.
The absolute generosity of our community to the Winter and Christmas Appeals, Charitable Works Fund , Project Compassion and Gethsemane Community is amazing and as Christmas approaches some of our students provide entertainment for different parish groups.
Our Parish priest father Remy is well known to the students and through the parish based sacramental program our children come to know fathers Julian James and Pierluigi.
All Saints is a supportive, welcoming and faith filed community. Our students and staff are happy to come to this school every day. Our parents feel welcomed and valued and our four priests also enjoy the welcome they receive whenever they visit our school. On behalf of all community members I can say in all honesty and sincerity that the Archbishop's Charter is adhered to and embedded in all we do as we love, not only in word or talk, but in action and truth'
Christine Scanlon
Principal
All Saints Catholic Primary School Liverpool