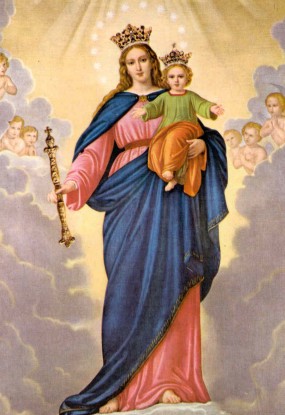 The Feast of Our Lady, Help of Christians will be celebrated on 24 May. It is a special day of thanksgiving and honour of Our Lady, the patroness of Australia.
Please click here to access support materials for your school
Our Lady, Help of Christians – Prayer Service
Preparations for the Cathedral Mass to celebrate the Feast of Our Lady, Help of Christians are well underway and secondary schools are advised of the following information.
Seating Arrangements
Each school has been allocated 20 places for students and 2 places for staff. Given the upcoming WYD and evangelisation days, schools should use their discretion as to which year groups are invited to the Mass. All students and staff are asked to be seated by 10.10am. In order to facilitate this, Colleges from each region are asked to enter the Cathedral as listed:
Southern Region: Main entrance
Inner Western Region: College Street entrance(s)
Eastern Region: Cathedral House entrance
The choir will be located in the seats around the organ, on the College Street side of the Cathedral. The Mass will begin at 10.30am and will finish by midday.
Hymns, Readings and Responses
The readings, responses and hymns will be available for download from this website and the Intranet in the second week of May. Although there will be a combined choir on the day, schools are asked to encourage students to participate fully in the responses and singing.
Toilets/First Aid
Toilets are located outside the side door leading to the Cathedral House and there are also toilets located in the hall of St Mary's Cathedral College. The entrance to the hall is near the back gate of Cathedral House. First Aid assistance will be available if required and will be located in the vicinity of the Cathedral toilets.
Further Information
For further enquiries and further information, please contact Ms Rebecca Ters by email at Rebecca.ters@syd.catholic.edu.au or on 9568 8419.